I recently came across a company called
Auromère Ayurvedic Imports
, which is one of the first companies to introduce Ayurveda to the United States over 30 years ago. What is Ayurveda? It literally means "the science of life" and is an ancient system of promoting health and rejuvenation with natural herbs and minerals. It began over 3,000 years ago with the sage Dhanwantari.
Auromere products are pure and effective, with distinctively different manufacturing procedures than regular bath and body products. Their catalog consists of a broad range of products, from toothpaste to shampoos to massage oils. They work closely with their suppliers in India to ensure that their products are of the highest quality, authentic, and natural. They engage with local specialists, practitioners, and cottage industries to provide employment for local village communities in various parts of India.
I chose to review Ayurvedic Sandalwood-Tumeric Soap and the Ayurvedic Hand and Body Lotion. I'm a soap fiend, so I was really excited to try a new kind. This soap smells strongly of sandalwood, so if you aren't a fan of the scent I would choose one of the other (many) varieties that Auromere offers. The Sandalwood-Tumeric soap is especially for blemished or oily skin, which is why I chose it. The soap doesn't dry out my skin at all, and lathers up really nicely. I would definitely recommend it for those with oilier skin.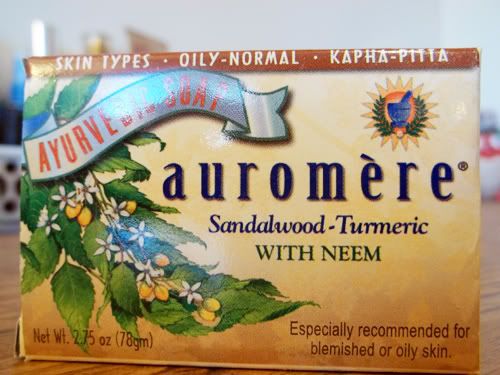 I was sent a full-sized bottle of the Hand and Body Lotion, which I definitely didn't expect (a pleasant surprise, though!). It has a very light, pleasant scent, so people who are sensitive to strong fragrance would love this. It's not unscented, but it's not overpowering at all. It contains sesame oil, which is the premiere oil for Ayurvedic skin care. It also contains almond and castor oils for extra moisture and rejuvenation. The cold-processed oils are infused with 13 Ayurvedic herbal extracts that are traditionally prescribed for skin preservation, conditioning, and muscle tone. It left my skin feeling soft and lightly fragranced, and it went on very smoothly. It didn't leave that weird greasy feeling that some lotions tend to leave. Big thumbs up for this one!
There's no giveaway to go along with my review this time, but Auromere is still providing a special perk for my readers. If you contact them through their website (links are below) and mention this review, you can choose a free sample for yourself to try!
Visit Auromere's website and see what they have to offer (you can also contact them at this site)
Bottom Line
: I enjoyed learning about the world of Ayurvedic care, something I didn't know anything about before. I enjoyed even more the opportunity to test such great products! I recommend Auromere products for people who are looking for natural skin care. They're also Leaping Bunny certified, too!
*Disclaimer: I received a body lotion and soap from Auromere for free to facilitate my review. I was not monetarily compensated for this review, and the honest opinions are entirely my own.