I've blogged about how much I love
Fab.com
before, and now I'll share with you my most recent purchases from my favorite flash sale site.
I am absolutely loving Fab because they have such a variety of sales. They're design-focused, so their sales run the gamut from clothes to interior decorating to magazines to toys...there is seriously so much stuff. I highly recommend checking it out.
As I've said before, I've accrued a total of $215 free credits for Fab sales, and I also currently have two months of free shipping for referring so many members to the site. I joined them pre-launch, and have achieved Prime Member status. Needless to say, it's been really fun getting a bunch of great items for free!
The sweater in the photo above is by
Maryink
. Founded in 2005, they print t-shirts and sweaters for all occasions. All of their items are hand-printed on order on a manual press, which I think is great. You really are getting a shirt that was made just for you! I liked the deer design on this one; the sweater itself is a dark gray. It's a little slouchier, which I really enjoy because it's super cozy. Their sweaters normally retail for $42, but I think it was something like $28 or so during the Fab flash sale.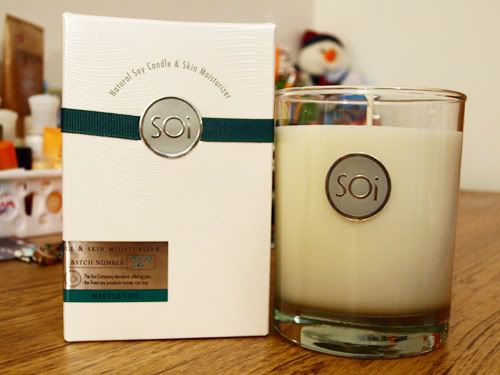 The second item I bought is this candle from The Soi Company. It's mistletoe scented, and was special to the Fab sale because it was the scent's premiere. What's cool about these candles is that they are also a skin moisturizer! After you blow out the candle, you can dip your finger in the all-natural soy base and rub it into your skin. It sounds weird, but it works really well. The candles burn for about 140 hours, which is 40% longer than normal wax candles. I really like soy-based candles because they burn so much cleaner than wax candles, too. They're eco-friendly, hand-crafted, and biodegradable. Oh and the mistletoe scent is perfect for winter!
Bottom Lines
: I really enjoy the products I've gotten from Maryink and The Soi Company. I'm a candle fiend and would definitely buy more Soi candles in the future. I also really recommend Maryink sweaters, they're super cozy!
I've really lucked out with all of my free credits for Fab, but regardless of whether or not you are able to get items for free, you'll still be getting great design for awesome discounts. You can sign up for Fab
here
.