If you recall, last month I made my
first post
for
Free Beauty Events
, a website that does exactly what it sounds like it does. They're a fabulous site that lists all sorts of free beauty events that are going on across the United States; you can even search for events by your zip code! I'll be posting about them each month to fill you in on some upcoming events and their monthly giveaways.
One of the events that they have listed is for
December 17th
. Walgreens is having their SaturDate with Beauty event with Coty. Beauty advisors will be on hand to assist customers with their holiday and/or personal shopping, and there will also be seasonal gift sets available for purchase. Another event coming up on
December 17th
is the Elizabeth Arden and Elizabeth Taylor One Day Event at CVS. Demonstrators will be in the store to help customers select Elizabeth Arden and Elizabeth Taylor fragrances, as well as handing out coupons.
The best part about Free Beauty Events is that it's, well, free! Information about the above events, among many others, can be found on their website. As I stated earlier, you can enter your zip code to find out what makeover, gift with purchase, spa open houses, and sampling events are happening in your area.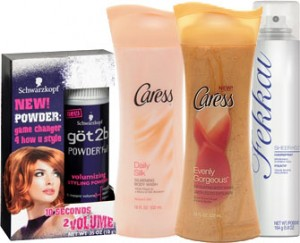 Free Beauty Events also has a blog for product reviews (so if you enjoy reading mine, I'm sure you'll love reading theirs, too!), and great
weekly
and
monthly
giveaways! The giveaway package for December includes:
Fekkai Sheer Hold Hairspray
got2b Powder'ful Volumizing Styling Powder
Caress Body Wash in Exfoliating Burnt Brown Sugar & Karite Butter
Caress Body Wash in Moisturizing Daily Silk
The giveaway runs from
December 1st
to
December 31st
; winners will be chosen on January 5th and notified on January 15th. Enter by clicking the "monthly" link in the paragraph above.
Bottom Line
: Check out Free Beauty Events and see what kind of events are taking place near you! Be sure to check back often, and enter their weekly and monthly giveaways, too.