This post is a bit different than what I've posted before, but I really wanted to highlight a great charity that I found.
The charity is called
Momo's Piggery
and they are based in Mountain View, California. Momo's Piggery caught my eye because I am an animal lover. I especially liked them because they work to find forever homes for guinea pigs. I've had rabbits all of my life, and although they aren't guinea pigs, I have a special affinity for all small animal pets!

Some of the cuties at Momo's Piggery in Momo-made cages
Momo's Piggery began as a one-time fundraising idea for an adoption event at their local SPCA. Founder Monica creates adorable charms and jewelry pieces, and portions of all of their sales are donated to Cavy House Guinea Pig Rescue. After the SPCA event, people began writing in to see if they could still purchase some of the pieces, and sending in pictures of their own guinea pigs to be made into art.
Soon, Momo's Piggery became involved in a string of local summer rescue events that led all the way into September. I also found out that earlier this very week, Momo's Piggery received an official Donation Acknowledgement letter! What began as a simple fundraiser has blossomed into an impressive operation to help find homes for adoptable guinea pigs. They work with rabbits on occasion as well, since Cavy House is a branch of the Rabbit Haven organization.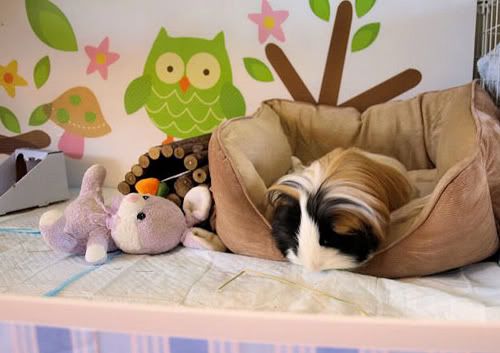 Momo's Piggery has a simple mission: all creatures deserve loving, forever homes; and they work to ensure that this need is met. Each of their creations are made with love, come with an official certificate of adoption (along with a name and story), and need a loving place to call home. These cute and whimsical pieces help to encourage those interested in having a guinea pig as a pet to adopt as opposed to buy one from a breeder or pet store.
Momo offered to send me a product from her shop to review, so I chose the
Gupi necklace
, which is her most popular item.
The necklace is so cute! The charm is made out of clay and is perfectly sized: not too big, not too small. The detail on it is very nice, and I appreciate the work it must take to put them all together. I could see the designs being really popular with younger kids, too, since they're very cute-themed.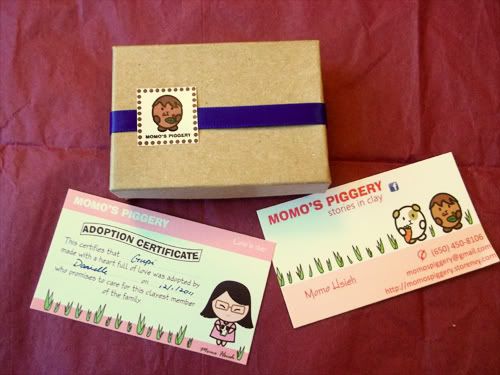 I also liked how my necklace came packaged. The blue ribbon and sticker on the box are simple, but I just really liked the way the blue popped against the box. There were also two cards included, the first (bottom left) is an Adoption Certificate for my Gupi necklace with my name on it, along with the date of birth for my Gupi. On the right is Momo's business card.
See the entire line of charms, trinkets, and jewelry at Momo's Piggery - Momo just posted the new Holiday collection!
Connect with them on Facebook
Bottom Line
: Momo's Piggery is a fantastic charity, and if you love animals like me I would highly recommend checking out what they have to offer. If you're in the Mountain View area, keep an eye out for Momo and her wares at different animal events around town!
Check behind the cut for more pictures of the sweeties at Momo's Piggery.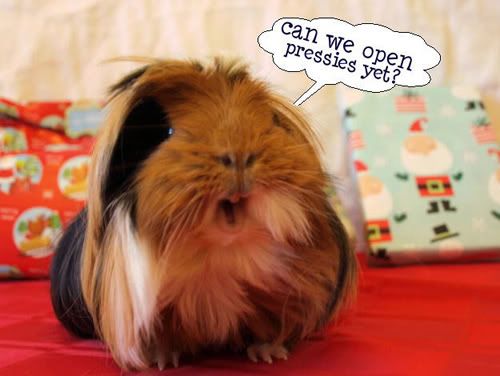 *Disclaimer: I was provided with the Gupi necklace free of charge from Momo to review. I was not monetarily compensated for my review, and these honest opinions are entirely my own.